Owen's Page
Owen Scott arrived Thursday, March 30th, 2000 at 9:42pm, weighing 7 lbs 14 oz and measuring 20" long.

He arrived at 39 weeks after an induction because I was becoming preeclamptic. We arrived at the hospital Wednesday afternoon about 3pm, after I was hooked up to the monitors they found I was in labor on my own. By 8pm that night, my contractions were not doing much so they added pitocin. I was also receiving magnesium sulfate through my IV which worked opposite of the pitocin, so it took awhile for things to get going really well. The doctor broke my water about 1pm on Thursday, about 5pm I was 4cm and asked for the epidural by 8:30pm I was 9cm. We began pushing at 9pm. After 4 or 5 pushes, Owen arrived at 9:42pm.

Bookmark this page to visit us again!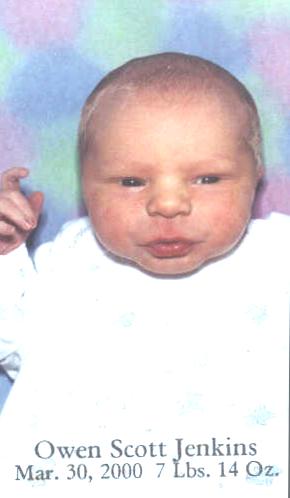 Big sister Olivia with Owen
<! trailer>
Back to the homepage!